---

---

---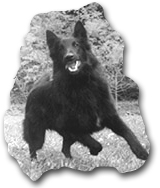 Canine Behavior Services offers positive, practical dog training and behavior modification programs in southwest Oregon, in and around the beautiful Roseburg area of Douglas County. At CBS, my specialty is training that values and enhances your relationship with your dog, using proven motivational, non-force methods to teach, not intimidate.
Structured, motivational group classes and flexible, personalized private lessons will show you how to bring out the best in your best friend, as you teach your dog the good manners and all-important self control needed by every dog, from companion to competition dog. Behavior modification programs are available to help solve troubling or frustrating problem behavior, and specialized, in-depth tutorials will get you started off right with your new dog or pup. I also offer Flower Essence consultations and a line of specialized formulas that can help with a variety of behavior and training issues.
Since 1990, I have taught owners and their dogs - of all breeds, ages, and behavior and training goals - to understand each other better. My training solutions are based on establishing clear and effective communication between owner and dog, and a foundation of trust, leadership, and mutual respect. I look forward to helping you learn to bring out the "Good Dog!" in your dog.
Thanks for your time, and I look forward to hearing from you!
Happy Training!

Julie is currently not taking any new pet training or behavior clients. Training classes and lessons will be limited to competition AKC Rally and Rally Free until further notice.